The card game for DEVs, HR and IT enthusiasts. 💾
IT Startup - The Card Game is a physical card game for 1-4 players (1-6 with an expansion packs). Play Developers to build your project. Raise your DEV's efficiency with Knowledge Cards and watch out for burnout! Sabotage your opponents with Action Cards and steal their developers with HR!
After selling over 4000 copies in Poland "IT Startup" had a successful Kickstarter and is now available in English.
To learn more about the game check our "About the game" page or watch the promo video below.

You can buy the EN Game Version by ->clicking here<-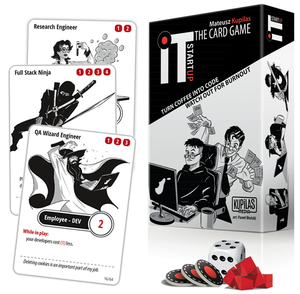 Tabletop Simulator Gameplay
Here are some highlight of "IT Startup - The Card Game" gameplay that happened on the "The Board & Barrel" Twitch stream!