The card game for DEVs, HR and IT enthusiasts. 💾
-> The game is currently not available for sale due to reorganization purposes.
It should be back in a few months. <-
IT Startup - The Card Game is a physical card game for 1-4 players (1-6 with an expansion pack). Play Developers to build your project. Raise your DEV's efficiency with Knowledge Cards and watch out for burnout! Sabotage your opponents with Action Cards and steal their developers with HR!
After selling over 4000 copies in Poland "IT Startup" had a successful Kickstarter and is now available in English.
To learn more about the game check our "About the game" page or watch the promo video below.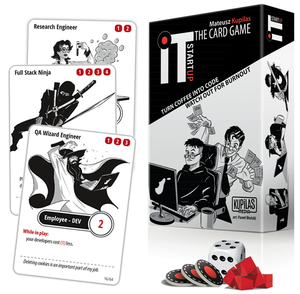 Author and publisher
Mateusz Kupilas - "IT Startup - The Card Game" game author and publisher. In the projects social media I often write "We" instead of "I", because it makes the project sound more professional, but the game is mostly a 1 man project + external freelancers for illustrations, DTP, translations etc.
"IT Startup - The Card Game" is an independent card game without any big company in the background. It's basically a silly side project that I dedicated a bit too much time to.
Have fun.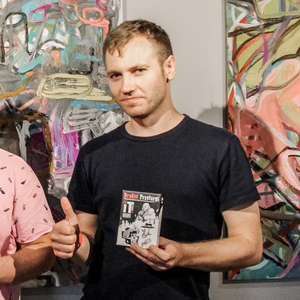 Tabletop Simulator Gameplay
Here are some highlight of "IT Startup - The Card Game" gameplay that happened on the "The Board & Barrel" Twitch stream!