---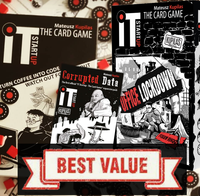 Get free shipping for order equal or overs 64 GBP.
Get all the released "IT Startup" games!  Games in the bundle can be combined into 1 big game or you can use for an alternative "build your own custom deck mode like in MTG).
Includes:
IT Startup - Office Lockdown (96 cards, 48 resource tokens, 48 burnout cubes)
IT Startup - The Card Game base game (64 cards, 32 resource tokens, 32 burnout cubes)
 IT Startup - Corrupted Data (additional 32 cards)
To learn more about the game, check our "About the game" page.
Our last Kickstarter Promo Video: