---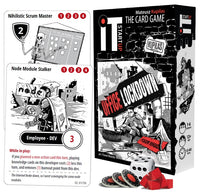 Get free shipping for order equal or overs 64 GBP.
A stand-alone game expansion

 

for 1-6 players (you don't need to own the previous "IT Startup - The Card Game" products).
 

An expansion

, to get more out of "IT Startup - The Card Game". Combine it with the older game version, and the "Corrupted Data" expansion, to get more variance!
 

New cards!

 

Get 96 card (62 unique ones) to build your own "IT Startup" decks.
 

Learning new things while playing a game

! It's human nature to get interested in the vocabulary used in a game you enjoy playing. When someone plays a Knowledge Card like "REST API" they may think: "what is this REST API thing, and why is it making this Software Developer more valuable?"
To learn more about the game, check our "About the game" page.
Kickstarter Promo Video: